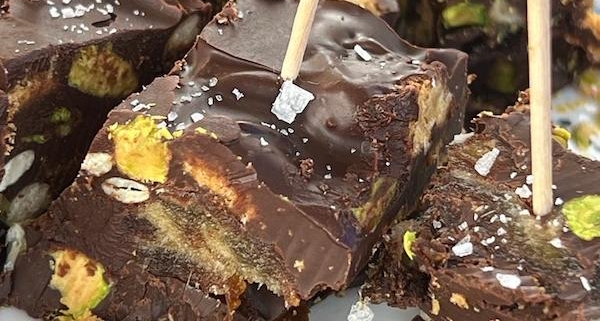 Baking cakes is my least favourite aspect of cooking. So when on a recent visit to London, the word FRIDGE CAKE, screamed out at me from the tall recipe card stand in Waitrose. The fact it contained dates and chocolate made me think – Moroccan kitchen. All that needed to be stashed into my suitcase was a packet of gingernuts. I had them hidden amongst the 40 green aprons I can't find in Spain, but take back here to be embroidered by Raul in Vejer. Raul is multi talented, he also makes saddles and bridles. Somehow the scanner of the Spanish customs police at the border picked up on my aprons, It must have been the bulk of them together that looks like a drugs package! So I had to pay 70€ in tax before they let me take them into Spain. They thankfully didn't care about my packet of gingernuts.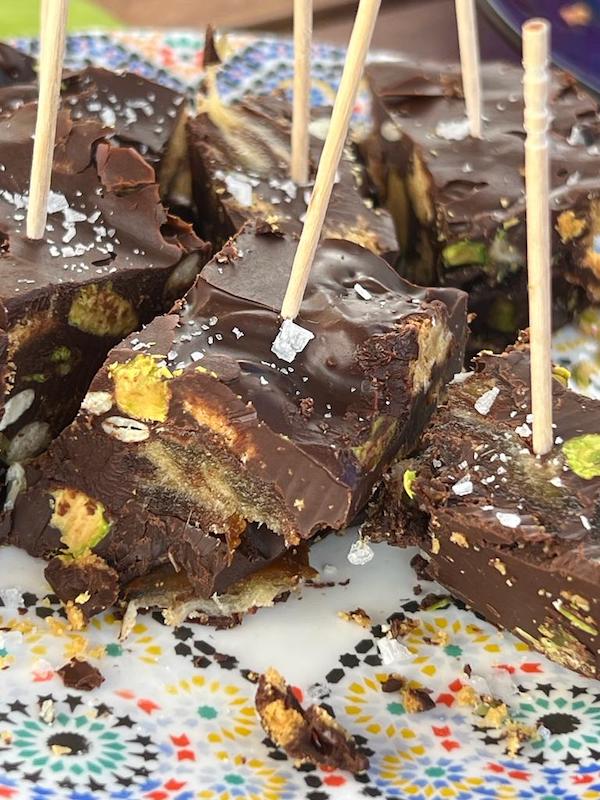 Photo courtesy of @corredera41, owner of a fab house to rent in Vejer, check the link HERE
Post the annual Easter Sunday bull run in Vejer, lunch on my terrace ended on this high note of Chocolate & Date Fridge cake, served with a chilled Palo Cortado. The addition of a sprinkling of Maldon sea salt made a huge difference. The general concensus was that a touch or orange or even some cardamon would have been interesting. Next time, or I leave that up to you!
Here's the LINK to the recipe. Thank you Waitrose.
I
Buen Provecho!
April 2023
https://www.anniebspain.com/wp-content/uploads/date-chocolate-fridge-cake-annie-b.jpeg
800
600
Anne Manson
https://www.anniebspain.com/wp-content/uploads/anniebspain_logo.png
Anne Manson
2023-04-10 10:47:06
2023-04-10 12:59:28
My Easter Sunday Cake, thanks to Waitrose