Day 3. Yet More Deliciousness…
Granada, Eastern Andalucia
---
Touring Andalucia's eastern region with Tasty Andalucia
---
Day 3. Location Granada. Cheese & Wine Wednesday
---
Traveling through spectacular countryside to an artisan cheese producer, with a touching history
Driving north-east towards Granada through breathtaking landscapes we stop in Guadix to visit Quesos De Leyva. Our host was Ignacio Miranda Leyva and his 200 strong flock of Assaf sheep at this beautiful cheese farm called Finca El Castañuelo. Quesos De Leyva is dedicated to artisan production using traditional methods and produces approximately 10,000 kilos of cheese each year.
Ignacio's grandmother began the production out of necessity following the Spanish civil war but the business didn't endure. It wasn't until the early 1990's when Ignacio's late father found the old cheese making tools of his mother that he decided to investigate further by asking old shepherds. Inspired by the history, he then took the decision to become a master cheese maker. At the age of 60, he went to a specialized cheese academy 1000 miles away in the north of Spain following which, in 1996, Quesos De Leyva began production.
They produce a variety of sheep's cheeses, including 'curado' which is 6 months aged, 'semi-curado' aged for 3 months and, a surprise favourite of mine, a curado cheese preserved in olive oil. This is the first time I've tried this and it won't be the last. A large jar and a few tubs of this made their way into my shopping bag. Storing the cheese in oil acts to preserve it so refrigeration isn't necessary, it also adds a unique flavour.
My Takeaways
;
Animal feed is alfalfa, barley and corn – this smelt good so I knew the cheese would taste great

The cheese is really delicious and totally natural with no additives

They also have pure Iberian pigs, but they don't eat acorns, they eat the same food as the sheep

Once mature, the pigs are sent to Huelva and become Jamon De Cebo (the name for Jamon from pigs that have been fed with fodder, not acorns)

We tasted the cheese paired with local wines, presented by Emilio from

Bodega Muñana; 

3 Cepas 2012, a blend of high altitude grown Cabernet Sauvignon, Tempranillo & Merlot (not from DO Granada but from the zone IGP Altiplano de Sierra Nevada). We all loved this wine so much that we ordered it that evening with dinner
>> All external links are at the bottom of this article…
Driving through DO Granada, for high altitude wines and lunch in a cave… yes really!
photo of vines and mountains
The drive to our next stop was again staggeringly beautiful, through the sunny vine filled valley, under the watchful eye of a snow-capped Sierra Nevada. It reminded me so much of being in the Mendoza wine valley in Argentina. Our journey was to visit Al-Zagal Bodega & Winery in DO Granada, again high altitude wines, a modern nondescript facility in the middle of beautiful countryside. We met with Pepe Olea Varon, the president of the winery who along with a group of friends began to produce wine in the year 2000 for personal consumption. He talked us through the process and then we tasted the recently harvested Syrah & Merlot straight out of the tank, paired with some very fine Jamon. Even at this stage, these young wines were lush.
Pepe's background is in education but his passion for good wine is incredible, as is his passion for good food. I knew lunch was not going to be disappointing. We left the winery with him (and a couple of cases of his wine) for Meson Tio Tobas in Cogollos de Guadix, east of Granada in between Sierra Nevada and Sierra de Baza, where we proceeded to have one of the best lunches of the trip, in a cave. Here you can actually stay in a cave. But we had to leave……
The food is best described as rustic; lots of embutidos (cured meats) to start, followed by a mixed salad of lettuce, tomatoes and lots of chopped dried fruits, walnuts and raisins – a nod to Al- Andaluz. Habas con Jamon (broad beans with ham) with fried eggs on top (yuck – runny eggs are not my favourite thing), seasonal mushrooms 'niscalos' and preserved artichokes. The main event was lamb chops cooked on the open grill, served with a patatas pobres. An ice cream of figs ended this spectacular feast. Each stage of lunch was served with one of the 6 totally fabulous wines Pepe had brought with him. Look out for Al-Zagal wines – they are really spectacular.
My Takeaways;
For a small person with a touch of vertigo, I really like high altitude wines

Pepe is using plastic formed palates as wine storage instead of the more traditional racking system. It saves space. It was the first time I had ever come across them

The staggering beauty of the countryside

Cave life is really cute and cosy
Final destination Granada City, for yet more food…
Dinner at La Cuchara de Carmela in Granada city was quite an event and served with delightful wines, especially the Muñana, which we hadn't had time to fully enjoy in the morning.
Amongst the many delicious things we ate were croquetas of cauliflower and white chocolate (crazy but yummy), trout from Rio Frio, octopus with a cold puree of potatoes and Rabo de Toro (oxtail) with which we Sherry lovers craved an Oloroso. You can take a girl out of Jerez ……………..
EXTERNAL LINKS – Day 3, Granada, Andalucia
Coming up… in my next blog post, we head to Jaen to learn all about olive oil production.. On the final day of my tour with Tasty Andalucia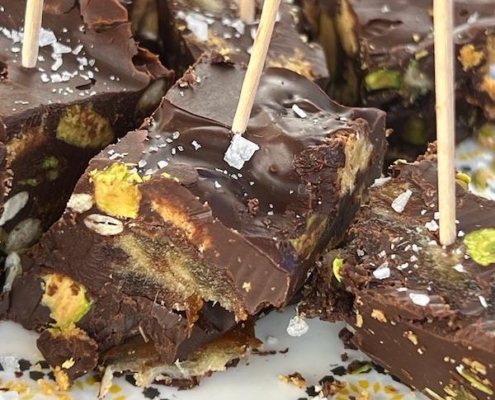 https://www.anniebspain.com/wp-content/uploads/anniebspain_logo.png
0
0
Anne Manson
https://www.anniebspain.com/wp-content/uploads/anniebspain_logo.png
Anne Manson
2023-08-16 18:54:07
2023-08-16 18:59:54
Solemn Procession for Vejer's Virgin de la Olivia, August 2023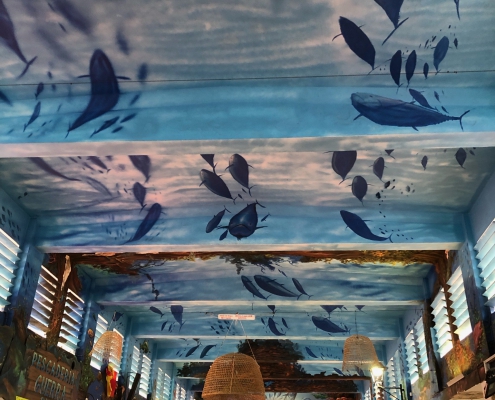 It's always very moving and such a privilege to witness the…
https://www.anniebspain.com/wp-content/uploads/8D214EFA-62C2-4D82-B54D-9C37BCEE0909.jpg
2049
1536
Anne Manson
https://www.anniebspain.com/wp-content/uploads/anniebspain_logo.png
Anne Manson
2023-05-31 16:52:55
2023-05-31 17:09:35
Almadraba, May 2023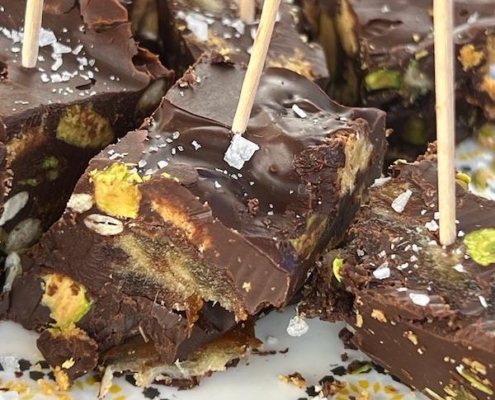 Baking cakes is my least favourite aspect of cooking. So when…
https://www.anniebspain.com/wp-content/uploads/date-chocolate-fridge-cake-annie-b.jpeg
800
600
Anne Manson
https://www.anniebspain.com/wp-content/uploads/anniebspain_logo.png
Anne Manson
2023-04-10 10:47:06
2023-04-10 12:59:28
My Easter Sunday Cake, thanks to Waitrose