The Deliciousness Continues…
Almeria, Eastern Andalucia
---
Touring Andalucia's eastern region with Tasty Andalucia
---
Day 2. Location Almeria. Tomato Tuesday!
---
We spend a morning touring the agricultural production of Clisol in Almeria
We journeyed east along the Costa del Sol to Almeria, internationally famous for its tomatoes and plastic greenhouses you can see from outer space. The first thing that strikes you on this journey is the incredibly barren land, it's all desert, so you wonder how anything could possibly grow here. Well, we were about to find out…
Our visit is to Clisol, based in El Ejido, a family-run tomato and pepper grower. We are met by Clisol's Lola Gomez, 2nd generation grower who has transformed her family business by creating a finely tuned ecosystem in her greenhouses. Production in greenhouses began some 50 years ago in order to grow produce in the barren terrain.  First, they had to bring in the soil to cover the desert. Then they topped the soil with coarse sand to stop evaporation. Then when farmers started using plastic sheets to stop the wind uprooting their plants, they realised that the plastic encouraged plants to ripen faster and in fact that 2 annual crops could be achieved. Thus was born the greenhouse system in Almeria.
Lola, a leading lady in her industry, has been a pioneer of organic ecosystems within the greenhouses. What impressed me most was how she introduces a collection of different bugs to cultivate this live ecosystem that's organic and an ideal environment for growing tomatoes and peppers. Her vegetables grow mostly in containers filled with a shallow layer of coconut 'soil'. They are fed mineral nutrient solutions via a spray system. Pickers work from sitting on trollies as per the pic above. Lola demonstrated how she 'combs' the baby plants twice a day to strengthen them, simulating the natural stresses of wind they don't encounter in the greenhouses. Also fascinating were her pheromone traps which confuse bugs so that they don't reproduce. The plants are fed nutrients and water through an electronic irrigation system.
After digesting all this information it was time to taste the produce. When it comes to my favourite things about living in Spain, tomatoes are in my top 5 and feature heavily in my cooking courses, and these did not disappoint. Simply dressed with a good quality extra virgin olive oil & salt, the selection of tomatoes from Lola's 'babies' were some of the sweetest and most delicious I've ever tasted. On the tasting table amongst the varieties of tomatoes, I was surprised to see baby cucumbers drizzled with honey, these were really fabulous, a combination soon to be appearing in my kitchen in Vejer de la Frontera.
My Takeaways
;
The greenhouses in Almeria cover 31.000 hectares and produce 3.7m tons of fruit & vegetables each year on a land where nothing naturally grows. It's remarkably successful

The greenhouses are changed every 3 years and the plastic is taken away and recycled. It is monitored by the government

Harvests take place between November and March. From the time of planting the turnaround time for cherry tomatoes is 75 days and 90 days for larger varieties.

At the end of the harvest, Clisol let the neighbours sheep and goats into the tents to eat the plants. The poo from these animals is then used as fertilizer for the next years crop

Lola Gomez is somewhat of an Almerian agricultural expert and she's even given a

TED Talk

which is currently only available in Spanish, however, there is a very interesting

BBC short film (see below)

about the agricultural revolution in Almeria which features Lola & Clisol

Clisol offer guided tours of the farm and facilities, and have pioneered agricultural tourism in Almeria, welcoming and educating tens of thousands of visitors a year, in particular children from local schools
For more delicious Spanish food, have a look at my A-Z of must-try food of the Costa de la Luz
>> All external links are at the bottom of this article…
Afternoon at the fish auction – Lonja de Pescado de Almeria
As guests with Tasty Andalucia, we were given special access to the trade-only fish auction at the Lonja de Almeria port, where restaurants, fishmongers and supermarkets come to purchase. We met Elvira, a marine biologist, who works for Del Barco de la Mesa ('from the boat to the table'), this initiative sells products through its website from the auction direct to the consumer without the need for intermediaries, who would profit from the transaction.
It was fascinating to watch the auction, seeing all manner of seafood and shellfish pass before us on the conveyor belt and go under the electronic hammer. Seafood wasn't the only thing the fishermen were unloading from their boats, diligently they had collected bags of plastic that they find out at sea, it was great to see their efforts to rid our seas of plastic pollution.
My Takeaways
There are 5 lonjas in Almeria, the lonjas de Almeria, de Adra, de Roquetas de Mar, de Carboneras and de Garrucha

Seeing the fishermen bringing sacks of plastics back to shore along with their catch
This is the fish that can be delivered to your door 2 hours after being bought at auction if you live 40 km away, or the following morning to anywhere else in Spain via Del Barco de la Mesa. If you don't have a source of fresh fish close by, this is a great service.
Evening – a fabulous dinner at El Parque with Del Barco de la Mesa.
I highly recommend El Parque restaurant. We feasted on gambas blancas (white prawns), gambas rojas (red prawns), quisquillas (a type of shrimp), monkfish cooked two ways; a la plancha (fried on a hot plate) and frito (deep fried), rice with 'pota' (a local squid) which was cooked in a way similar to a paella. All washed down with a perfectly chilled Manzanllia Sherry, which was the perfect combination. It was all absolutely delicious and exciting to eat what you have just seen being landed off a fishing boat, then into the auction and bought by Barco al Mesa.
Day 2 – 
My Highlights from Almeria
The use of bugs purchased in tubes to create the ecosystem

How the system started in an otherwise barren land

The size of everything including the height of the tomato and pepper plants grow to

The roof of each greenhouse is spray painted with whitewash to deflect the heat of the sun, just like they do in Andalucia with their houses

How many tomatoes I could eat in 10 minutes

I thought Gambas Blancas white prawns were only from the Huelva/Sanlucar area but they are in the Med too. They are found close to shore whereas the red prawns come from much further out to sea

The availability of extremely fresh fish from the auction to the public via Del Barco de la Mesa
Celebrate the sustainable tuna harvest at the heart of the Almadraba on a unique gourmet tour with Annie B
EXTERNAL LINKS – Day 2, Almeria, Andalucia
Coming up… in my next blog post, we visit an artisan cheese producer and eat the most incredible lunch in a cave near Granada… On day 3 of my tour with Tasty Andalucia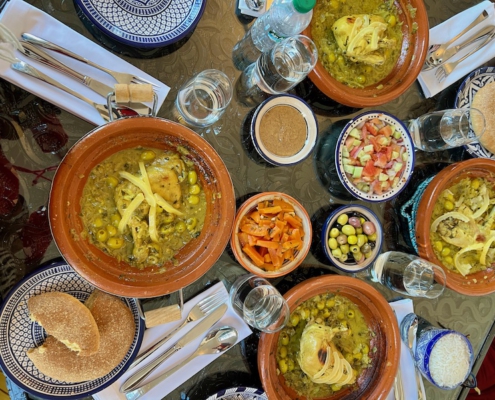 A tagine is a name given to the lidded clay pot used in Moroccan…
https://www.anniebspain.com/wp-content/uploads/a-simple-chicken-tagine-by-annie-b.jpg
600
800
Anne Manson
https://www.anniebspain.com/wp-content/uploads/anniebspain_logo.png
Anne Manson
2023-02-15 21:06:16
2023-02-18 18:07:58
How to make an easy chicken tagine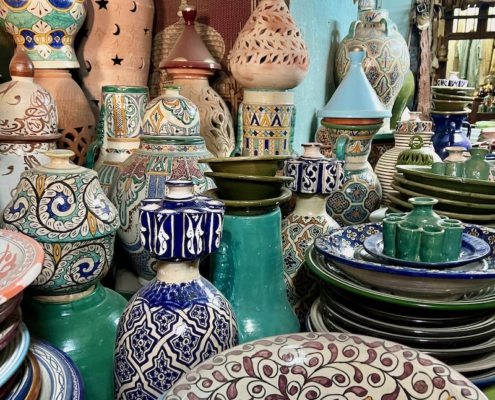 I love Tangier. On a clear day, I can see the north coast of…
https://www.anniebspain.com/wp-content/uploads/moroccan-pottery-in-tangier-with-annie-b.jpg
1067
800
Anne Manson
https://www.anniebspain.com/wp-content/uploads/anniebspain_logo.png
Anne Manson
2023-02-15 19:29:02
2023-02-24 17:45:55
Getting to grips with Tangier
You never know what surprises are around the next corner. I…
https://www.anniebspain.com/wp-content/uploads/delicious-artichokes-at-hotel-convento-vejer-by-annie-b.jpg
1067
800
Anne Manson
https://www.anniebspain.com/wp-content/uploads/anniebspain_logo.png
Anne Manson
2023-02-01 17:31:10
2023-02-01 18:32:59
How I was missing a beautiful place around the corner for 20 years!