So much has been written about Sherry, both on the internet and in print. As a result, reading about it can be confusing: nothing about it is conventional, and it's not an easy wine to explain or, consequently, get your head around.
To cast a bit of light on this fabulous wine and help you remember your Sherry experience, here are a few key facts…
What is Sherry?
Sherry is basically an aged white wine. A food wine, it should always be drunk while dining. It's also a wine of extremes that can range from the extremely dry to the extremely sweet.
Where Does it Come from?
A wine can only be called Sherry if it is from the denominación de origen (DO) of Jerez. Likewise, Champagne can only be called Champagne if it is from the AC of Champagne.
The DO of Jerez is known as The Sherry Triangle. All Sherry has to be aged withinthis triangle bordered by the Sherry towns of Jerez de la Frontera, Sanlúcar de Barrameda, and El Puerto de Santa María.
Types of Sherry
Sherry is a generic name for eight types of fortified, aged and blended wines. If you go into a bar and ask for a 'Sherry', they will look at you blankly. You need to specify the type you want.
The eight types of Sherry are: Fino, Manzanilla, Amontillado, Palo Cortado, Oloroso, Cream, Moscatel and Pedro Ximenez (PX).
How is Sherry Made?
All Sherry is made from green grapes only.
All Sherry is made from three grape varietals: Palomino, Moscatel and Pedro Ximenez (PX).
90% of all Sherry is made from the Palomino grape.
The colour of Sherry comes from oxidization (think apple without its peel, Fino without flor*) or sun drying (sundried Moscatel and PX raisins).
(*Flor is the layer of naturally forming yeast that sits on top of Fino and Manzanilla
wine in the casks and protects the wine from the oxygen/air. It prevents the wine becoming oxidized Sherry is FAB – Fortified, Aged and Blended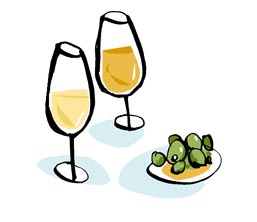 FORTIFIED: 100% of all Sherry is fortified from a grape spirit. Port is fortified with brandy. This grape spirit is also aged on its own in old Sherry casks giving us Sherry Brandy.
AGED: All Sherry is aged. The youngest Sherry you will ever drink will be three years old. It is aged using a unique system called solera and criadera (think barrels stacked on top of each other).
BLENDED: 98% of all Sherry is non-vintage; it is a blend of different vintages. Only Oloroso can be a vintage. The ageing system of solera and criadera allows for fractional blending – all vintages meet together as they make their journey to the solera for bottling.
Sherry is bottled by extracting a little each year (max 30% by law) from the solera which creates space for it to be topped up from the criadera above and that in turn will be topped up from the criadera above – until eventually there is space in the top criadera for the new wine to be added.
Neither the Vintage nor the Harvest Is Important
To the Sherry industry, the quality of harvest is not crucial; it's what happens to the wine after harvest that's so integral to the process. How the Sherry is aged is absolutely critical.
Importance of Air
The most important ingredient in the ageing of Sherry is air.
Manzanilla tastes differently to Fino due to the maritime air of Sanlúcar, while the importance of the Poniente and Levante winds of Sherry country in keeping the barrels cool is absolutely paramount.
Sherry & Food Matching
There's an important saying to bear in mind when you're matching Sherry with food:
If it swims: Fino and Manzanilla.
If it flies: Amontillado.
If it runs: Oloroso.
Differences between Sherry & Wine
Non-vintage: 90% of all wine is vintage. 98% of sherry is non-vintage – it is a blend of different vintages because of the solera and criadera aging system.
Harvest is not important: harvest is crucial to wine but not to Sherry wine. It's what happens to Sherry wine after the harvest that is the important part – when it enters the FAB (fortified, aged and blended) process.
Aged above ground: in buildings called Sherry 'cathedrals'. All wine is aged in
caves below ground.
Fortified: all Sherry is fortified. Few wines apart from Sherry are fortified. Other fortified wines are Marsala, Maderia, Port, and Muscat de Beaune de Veniese.
Sherry in towns: all Sherry is made and aged in towns. Wine is made and kept in vineyards.
Want to find out more about Sherry? Come to beautiful Vejer de la Frontera and get a first-hand experience on a cookery course at Annie B's.
Alternatively, I also run year-round Sherry tasting classes.
If you are interested in planning a Sherry Tour, get in touch.
Words: Anne Manson
Illustrations: Ximena Maier  http://ximenamaier.com/
https://www.anniebspain.com/wp-content/uploads/Carmen-y-venencia-2014-e1416828398337.jpg
480
890
Anne Manson
https://www.anniebspain.com/wp-content/uploads/anniebspain_logo.png
Anne Manson
2014-11-21 21:17:45
2015-01-05 22:14:05
Sherry: A Beginner's Guide