The Deliciousness of Eastern Andalucia
---
Introduction and day 1 of my tour of Andalucia's eastern region with Tasty Andalucia
Why is Andalucia so special?
Andalucia, one of the most spectacular lands on earth, captured my heart and my taste buds many years ago. It's filled with glorious landscapes, mountains, forests and beaches. It oozes deliciousness in the form of fish, meat, cheese, olive oil, fruits, vegetables and wines. It is steeped in history and exotic tales of Phoenicians, New-World discoveries, Romans and of being under the rule of the Moors for centuries. All these multicultural influences have shaped this land bringing wealth, poverty, hardship and joy. But throughout, the spirit of Los Andaluces still radiates through their love of family, friendships, food and flamenco.
The province of Cadiz, and in particular Vejer de la Frontera, is closest to my heart as it offers everything my love of Andalucia thrives on. However, when I was approached by Tasty Andalucia, a government initiative to promote how delicious Andalucia is, to learn about the delights of 'Andalucia Oriental', wild Toros couldn't have stopped me accepting such a great invitation. The brief description was that we would be visiting Malaga, Almeria, Granada & Jaen in 4 days… it was enough to convince me.
You can find out more about Tasty Andalucia by visiting their website. Find additional links at the bottom of this article. 
The Mediterranean Diet
You'll no doubt have heard that the 'Mediterranean diet' is the most healthy way to eat; due in part to the local production of nutrient-dense foods that are cultivated from rich lands, seas and mountains, in an ideal climate with many hours of sunlight. Together this provides exceptional conditions for providing a rich diversity of agriculturally produced food. That's why when you leave me after one of my cooking experiences, you leave feeling great because of the quality of everything you've consumed! It could be referred to zero miles or slow food.
Before we set off, let's answer an important question…
What is a Denominacion de Origen (DO) and what does it mean?
Denominacion de Origen (the French equivalent is A.C. Appellation Controlee) is the name of a geographical region which designates a product as originating from that area, and whose quality or characteristics are due exclusively to the unique geographical environment (terroir), including both the natural and human factors involved. It acts as consumer protection, governed by the Consejo Regulador of the DO, to ensure that producers abide by strict criteria to guarantee authenticity and quality. So that you know what you're getting when you buy, Spain has DO's for food as well as wine. Food products such as Jamon, Olive Oil, Vinegar, Smoked Paprika, and Malaga raisins too!
Day 1, Moscatel Monday. Location, Malaga
The Wine Museum of Malaga
Can you think of a better way to start a Monday morning than with a visit to the Wine Museum of Malaga? This charming museum in the beautiful Plaza de los Vineros showcases, amongst other things, a tremendous exhibition of label designs for both wines and raisins through the centuries. This aspect really intrigued me. The beauty of boxed raisins and the work and love associated with great raisins. We were guided through the rest of the museum, learning about the wine production development, soil types and grapes. Our visit ended with a spectacular tasting.
My Takeaways;
DO Malaga consists of DO Malaga, DO Sierras de Malaga & DO Pasas de Malaga. Within which there are 5 wine production zones; Serranía de Ronda, Manilva, Norte, Axarquía and Montes de Malaga

Predominant grape varieties used are white grapes –  Moscatel de Alejandria (the raisin grape), Moscatel Morisco and Pedro Ximenez (PX) Get educated on Sherry 

Malaga is historically synonymous with sweet Moscatel wines; made from Moscatel de la Alejandria, Moscatel de Morisco & PX. However, in recent years there's been an increased production of dry Moscatel; which is fragrant and fruity. I've always loved dry Moscatel but I didn't realise there was so much being produced. 

This wine is great as an aperitif, with fish, and perfect for summer drinking

DO Malaga also produces some great red wines (tintos), predominantly from Ronda, and also many rosé (rosados) wines

Learning about a new (to me!) red wine grape called Romé
Winery Quitapenas
In the afternoon we visited the family-run Winery Quitapenas, established in 1880.  I've always seen these distinct looking bottles as I travel in and out of Malaga airport but have never regarded them as a wine of quality… until this moment!
Quitapenas have their own vineyards but all the action takes place on the outskirts of the city in their facility in an industrial estate. So not exactly a pretty location but fascinating nonetheless. As we entered the building we were confronted by a smell of intense sweetness, the air was filled with the scent of 'Arrope' which is a reduction of Pedro Ximenez (PX) wine used to sweeten wines,
Cruzcampo & Angel Leon
A very unexpected bonus and one of the highlights of the trip was an evening exploring the trendy, arty Soho district of Malaga and discovering the Cruzcampo flagship brewery & gastronomic space where we tasted a beer designed in conjunction with Angel Leon, Andalucia's only 3 Michelin Star chef. This unique beer was brewed using plankton, sea water & Moroccan lemon paired with olives stuffed with anchovies, it was a taste sensation!
Day 1 – 
My highlights From Malaga
The collection of antique raisin packaging

Realising there were 2 types Moscatel grapes; Moscatel de Alejandria I appreciated but not the smaller variety, Moscatel Morisco

Appreciating Parajete from Quitapenas

Smelling and tasting Arrope

The arty and upcoming Soho district of Malaga

Visiting '

La Fabrica Cruzcampo'

flagship brewery in Soho
Coming up… in my next blog post, we visit an innovative tomato grower in the enormous agricultural area in Almeria, and an exciting fish auction at the port… On day 2 of my tour with Tasty Andalucia
https://www.anniebspain.com/wp-content/uploads/IMG_5825.jpeg
1218
1056
Anne Manson
https://www.anniebspain.com/wp-content/uploads/anniebspain_logo.png
Anne Manson
2023-11-05 14:13:52
2023-11-06 10:11:42
Waitrose Magazine, September 2023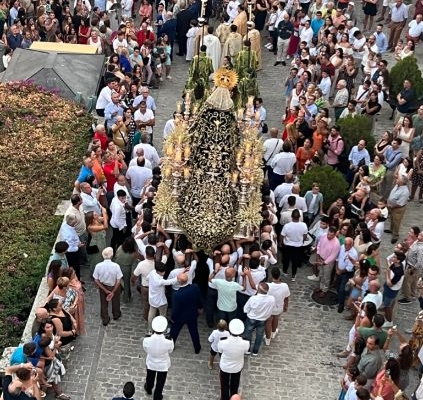 https://www.anniebspain.com/wp-content/uploads/Vejer-Procession-Aug-23.jpg
563
423
Anne Manson
https://www.anniebspain.com/wp-content/uploads/anniebspain_logo.png
Anne Manson
2023-08-16 18:54:07
2023-11-02 10:21:32
Solemn Procession for Vejer's Virgin de la Olivia, August 2023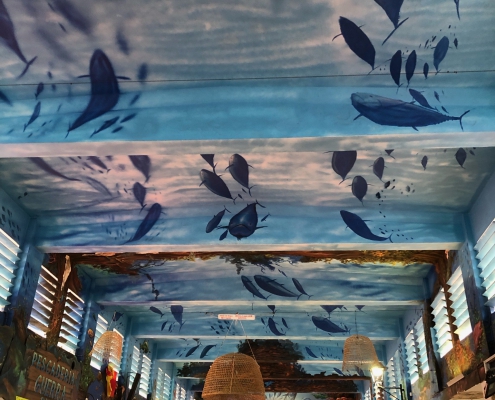 It's always very moving and such a privilege to witness the…
https://www.anniebspain.com/wp-content/uploads/8D214EFA-62C2-4D82-B54D-9C37BCEE0909.jpg
2049
1536
Anne Manson
https://www.anniebspain.com/wp-content/uploads/anniebspain_logo.png
Anne Manson
2023-05-31 16:52:55
2023-05-31 17:09:35
Almadraba, May 2023