My Alternative Christmas Cake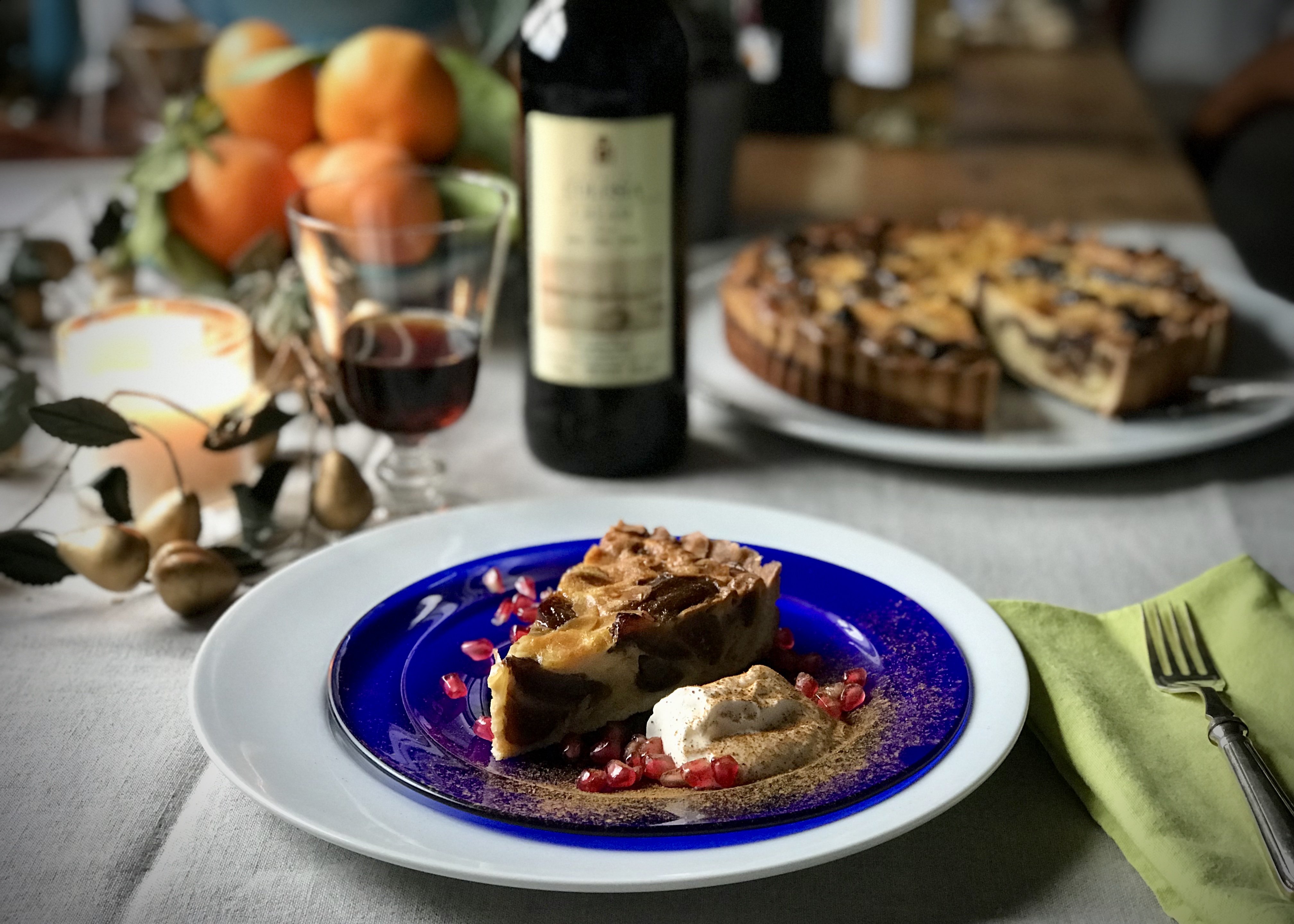 The festive season is upon us, and with it inevitably, Christmas cake. If the traditional British Christmas cake just isn't for you, why not give my alternative Spanish recipe a try this year? A wedge of this fabulous tart, served with a glass of Cream Sherry (trust me – Harveys Bristol Cream is FAB!) served chilled or with an ice cube, and a generous strip of orange zest, is divine. Or a glass of chilled PX is just as fabulous.
>> You can learn all about sherry here
Ingredients
You will need:
1 x 28cms/11 inch flan tin
1 x quantity of sweet pastry;
140 gms/5oz butter
140 gms/5oz icing sugar
2 x eggs
280gms/10oz flour
For filling:
100 ml Pedro Ximenez  Sherry
200g/7oz dates
200g/7oz dried figs
100g/3.5oz raisins
4 eggs, 200g/7oz Creme Fraiche, 50g/2oz Sugar and 50g/2oz Flaked Almonds
Cooking instructions
How to make the dish:
To begin: marinade the dried fruits overnight in 100ml Pedro Ximenez sherry. I sometimes cut the dates and figs in half.
To make the pastry:
Whizz butter and icing sugar in a food processor.
Add 2 eggs and whizz.
Gradually add 10oz flour until it all comes together. Wrap in cling and chill
The pastry cannot be rolled; it has to be carefully pressed into a tin. You may need to stop and re-chill the pastry and tin halfway through.
Chill pastry lined in the tin before baking blind.
Try adding some grated orange rind to your pastry
To make the filling:
Mix together 4 eggs, 200g Crème Fraiche and 50g sugar.
Fold through the dried fruits and 50g flaked almonds.
Pour into pre-baked pastry case and bake at 170 degrees for 35 minutes or until set.
Delicious served slightly warm with cinnamon cream.
Other nice to knows…
Serves: 8
Preparation time: 20 minutes
Cooking time: 35 minutes
Calories: 290 calories per helping
Looking for more alternative Christmas cake recipes this festive season? See my orange and lemon drizzle cake recipe.