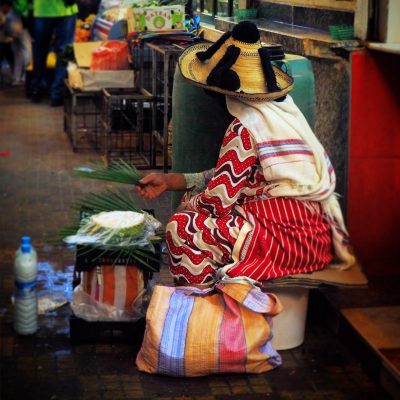 The morning after my very first day trip to Tangier I was suddenly transported back to the middle of a hazy Medina street as I began shampooing my hair. That curiously strong olfactory link to memory kicked in as I cleaned the wood-smoke smell that hangs in the old city air out of my hair.
I had expected the third most populated city in Morocco to be bustling, dusty, dirty and beautiful. Though the paint on its walls is time-worn it still catches you as you turn corners to face bold pinks, warm oranges, and deep blues. Street cleaners maintain a remarkable cleanliness for all the life that winds through the maze-like streets, and through all the scents of cooking meat, pungently ripe tomatoes, and sweet cinnamon there is nothing unpleasant or overwhelming.
And as if that doesn't sound tempting enough, here are 10 more great reasons to hop across the Strait from Andalucia and take a day trip to the city:
Breakfast in Spain, Lunch in Africa
The fact that you can visit two continents in a day is incredible. Ferries cross every two hours from Tarifa to Tangier Ville, that's seven times a day in high season. Just an hour's comfortable ride.
 Moroccan Cuisine
International influence and strong fishing industry means the food is as rich a tapestry as the rest of the country's culture. Feast on chicken, lamb, beef, or fish all on skewers, in tagines, with couscous, in sweet and savoury pastries, sides of soft roasted vegetables, cooked salads, light breads with olive oil, and the most flavoursome olives I have ever tasted. A particular delicacy to look out for is a mixture of Argan oil, honey, and ground almonds called Amalou, served mostly at breakfast. But I just love Pastella – the very best chicken Pastella can be found in Tangier. Traditionally made with pigeon and almonds, the more popular chicken Pastella is what you will normally find.
Musee de la Kasbah
In the middle of the Kasbah is a former Sultan's palace, now a museum, so the building is part of the collection itself. Rooms of artefacts, floor mosaics, and sculptures open off a beautiful interior courtyard.
Shopping
– and haggling – in the souks for leather goods, woven bags, tea glasses, jewellery, fabrics for clothes, tablecloths, towels, carpets and rugs, spices, oils, herbs, fruit and vegetables, and I'm sure anything else you might desire to find.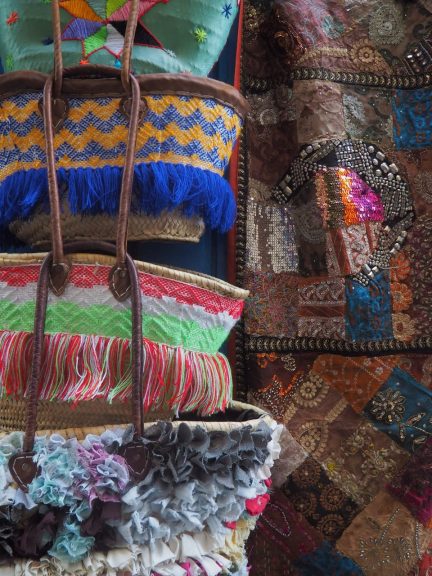 The Doors of the Medina
As with any town or city there are poor areas and areas of wealth, within the Medina the historically wealthy areas can be recognised by ornate doors, but throughout the Medina walls are painted in jewel and pastel tones and you feel like you're walking through art.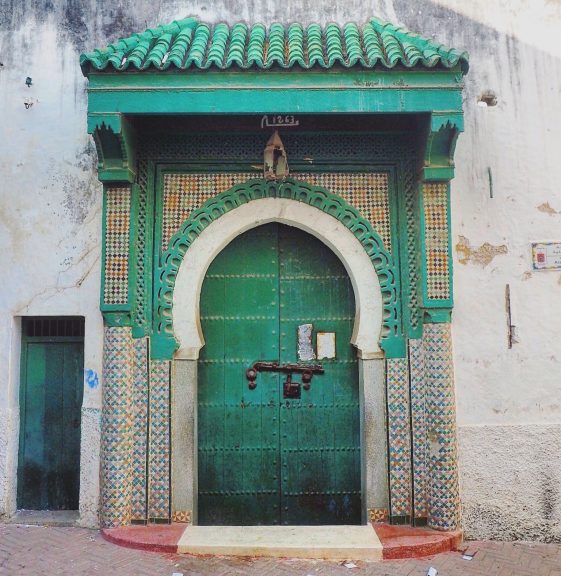 Compact History Lesson
A truly progressive melting pot, Tangier was once a city of seven nations living side by side. A tour of the city will take in the French, English, Portuguese, Spanish, American, and Belgian sectors before you head to the Medina and Souk of the old city, and Kasbah, the historical centre of high-ranking living.
No Jet Lag
Tangier is on GMT time so coming from Andalucia you are "an hour younger" as your guide may tell you.
Mythology & Natural Wonder
Where the Mediterranean Sea and the Atlantic Ocean meet feels like the end of the world. You cross The Strait of Gibraltar to reach Tangier from Tarifa. Mythically split by Hercules, it is a point of historical magnitude. The pillars of Hercules are defined by Gibraltar in Europe and Jerbal Musa in North Africa. Cap Spartel and the Cave of Hercules are serene, picturesque and worthy attractions on your agenda.
Mint Tea
Made steaming hot and stuffed with fresh mint, Moroccan mint tea is traditionally very sweet. Ask for sugar on the side so you can sweeten it to your taste. As a non-alcohol drinking country, there are many alternatives in fresh juices and excellent coffee.  Although alcohol costs a premium, some restaurants serve beer and wine.
Currency
The rule with haggling is to offer half of what is originally asked for and work your way to a price you are happy to pay. Although the currency of Tangier is Dirhams everyone, including sellers in the souk, accepts Euros and Dollars, so you don't need to worry about the day's exchange rate.
And an Extra One for Luck… Street Life
The refreshing, animated faces of a modest life are everywhere you look in Tangier. It is good practice to always ask before you take a photograph of people as they shop or work, and many will beam happily back at you.
Convinced? If you'd like to join me the next time I visit Tangier for the day, have a look at the itinerary of the tours I run here.  Otherwise join me in my kitchen for Moroccan cooking class.
https://www.anniebspain.com/wp-content/uploads/blog-post-img1.jpg
1470
1470
Anne Manson
https://www.anniebspain.com/wp-content/uploads/anniebspain_logo.png
Anne Manson
2016-10-12 15:25:39
2016-11-03 17:55:53
10 Reasons Why You Have to Take a Day Trip to Tangier