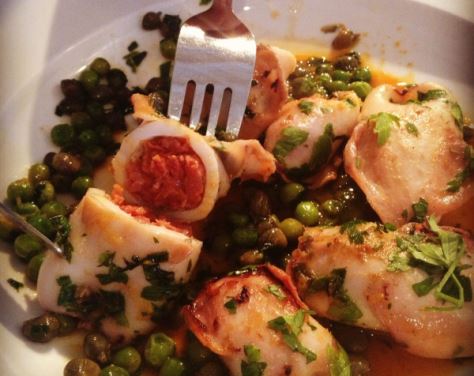 It is no secret that I am a cephalopod monster – if ever I spot pulpo, choco, calamar, chipirones or puntillitas on the menu – it's mine!
So just by chance, I caught a few minutes of BBC 1's Saturday Kitchen the other weekend. Looking gorgeous slaving over a hot stove was the talented Ben Tish from the Salt Yard Group, frying off plump tubes of baby squid.
The very same morning, up popped on my Sherry alert, a rather fabulous Sherry based cocktail from 15 Romolo in San Francisco. It happened to be an entry for the 2014 Vinos de Jerez Cocktail Competition (see it here) and they paired it with… baby squid stuffed with chorizo!
So my mission became to perfect my own version of chorizo stuffed baby squid, to serve on our upcoming Ultimate Sherry Tour which kicks off next week.
The recipe outlined here is FAST. You can pan fry the tentacles too. Or play around with the stuffing and add a little fried onion or some breadcrumbs – anything you like.
Chorizo Stuffed Baby Squid
Inspired by Ben Tish of the Salt Yard Group, London & the kitchen of 15 Romolo, San Francisco.
Ingredients
You will need:
400g of baby squid (chipirones)
125g cooking chorizo (preferably iberico)
Zest of 1 large or 2 small lemons
Chopped flat leaf parsley
250 mls Dry Sherry (I use Fino)
2 tbs rinsed capers
100gms defrosted frozen peas
Large knob of butter
Olive oil
Cooking Instructions
How to make the dish:
Clean the baby squid by pulling off tentacles and rinsing the inside under water. Pat dry.
Mix together, by hand, the chorizo, half the lemon rind and a small handful of chopped parsley. Stuff this into the squid tubes – no more than 3/4 full, as they may burst.
Heat up a sauté pan.
Lightly rub olive oil over the stuffed tubes and brown in the hot sauté pan, turning slowly until browned all over. This should only take a few minutes.
Once brown, deglaze with lots of Fino or Manzanilla. Bubble off alcohol for a few minutes.
Add the peas and the capers.
Bubble a little bit until a reduction is achieved.
Add remaining lemon zest.
Add the butter and swirl pan until it melts.
Sprinkle with parsley. (This dish requires no salt as salt has been used in the making of the chorizo.)
Serve with lashings of chilled Fino or Manzanilla on the side. (Several bottles were consumed during the testing of this recipe…)
Buen Provecho!
https://www.anniebspain.com/wp-content/uploads/chorizo_stuffed_baby_squid1.jpg
376
474
Anne Manson
https://www.anniebspain.com/wp-content/uploads/anniebspain_logo.png
Anne Manson
2014-11-21 21:19:20
2014-12-19 18:05:59
Chorizo Stuffed Baby Squid Recipe