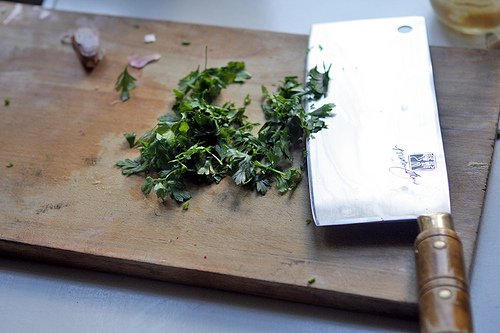 A hugely entertaining read from David Lebovitz  – he even packs meat cleavers when heading to visit friends or family for the weekend ! I have to say that I'd be a bit concerned if any of my friends or family turned up with such an arsenal of equipment. Really made me laugh as in my mind I had a picture of someone opening up a raincoat and everything would be tucked into pockets etc. Anyone visiting me in my Spanish Kitchen would probably expect me to have most goodies already in stock so probably wouldn't consider packing such things. However, reading this took me back to when I would be heading off to a rental house for the weekend/holiday. I would always pack a black pepper grinder, a couple of my favourite knives, a knife sharpener and a roll of bakewell paper (always used to line tins, thus save on washing up!) A couple of bottles of Tio Pepe always came too.
Thank you David Lebovitz for such an entertaining read.
http://www.davidlebovitz.com/2013/08/thing-i-bring-with-me-when-im-a-guest-for-a-weekend-or-week/
https://www.anniebspain.com/wp-content/uploads/chopping-parsley.jpg
333
500
Anne Manson
https://www.anniebspain.com/wp-content/uploads/anniebspain_logo.png
Anne Manson
2014-11-21 18:05:52
2020-03-05 13:49:01
What do you bring when you have been invited to visit friends or family ?